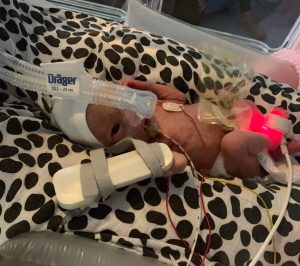 "Everything seemed to be going well after Aubree was born at 25 weeks and 6 days gestation on the 27th of August 2021.
On the 7th sept my husband Dan had to leave us in Derriford and return to Holsworthy to be with our other children. A few days later Aubree took a massive downward spiral and needed to be re-intubated after coming off the ventilator on day 5. I had a knock on my door on the ward around 4am on the 9th of Sept saying Aubree needed intervention! I sat with her for the rest of that day leaving her side for short breaks. She made no improvement.
Aubree hadn't pooped in those first 11 days even with countless suppositories. Green aspirates, a swollen tummy and too many bradycardias and desats made the nurses and Drs worried. The consultant on duty told me I needed to get my husband back. I assumed this was because I hadn't been coping well. I was wrong…  Once he arrived, we were taken into a separate room, and learned our daughter had Necrotising Enterocolitis (NEC). We were told that Aubrees bowels looked like they had perforated on scans and without and operation, she had a low chance of survival. Scans were sent to Bristol, who later confirmed a perforation; Plans were made to transfer Aubree to St Mikes in Bristol.  It took 9 hours to stabilise Aubree for transfer. They rushed a blood transfusion and supplied her with countless drugs for the journey. The transfer up is one I will never forget… 2 long hours chasing an ambulance. Not knowing what was happening.
We got to St Michaels around midnight, we were told the surgical team would check Aubree over and would likely operate first thing that morning. They took one look at Aubree and rushed to prep her for theatre. She was worse than they anticipated. To this day It scares me how close to losing her we were. We signed the consent form and listened again to her survival rate and problems that can go wrong.
It was gone 1am by the time she got to theatre. The next several hours were a blur. Around 7am Aubree's surgeon informed us that the operation went well but they had to give Aubree's bowel a rest so created a stoma, she was lucky!!! She lost 24cm of her small intestine, meaning she shouldn't have many issues later in life.
Introducing feeds again was a slow process, just as we thought she was tolerating, she'd show signs she wasn't. So back nil by mouth we went. This went on for a while.  Although the stoma saved Aubree's life it also made her very poorly and needed to be reversed well before the recommended weight of a reversal. She ended up needing 24/7 fluid replacements for the fluid she lost from her stoma. She had to be on TPN for months and suffered with Hyperbilirubinaemia (long jaundice) that could have affected her liver. She had to have daily weighs as she was losing weight as quick as she was gaining.
Aubree is now a feisty 20-month-old who has a beautiful war wound across her tummy, that we will tell her be proud of. Her scar is a reminder of how close she came to losing her battle with Necrotising Enterocolitis. She is our warrior princess.