On Saturday 12th of August we are going to be holding our great big SNUG Sponsored fancy dress parade! We invite you to grab all your friends and family, get dressed up and come along and join in some wholesome fun, all for a great cause! Everyone is invited! The big aim of the day is to raise as much money as possible for SNUG so we can ensure families who have sick and preterm babies in Devon are provided with the support and resources they need to help to see them through them through difficult times.
Every child will receive a certificate for entering the parade, and prizes will be given to the BEST DRESSED BABY, BEST DRESSED CHILD and the BEST DRESS FAMILY. One lucky entrant will also walk away with a family break in a beachside apartment in St Ives! Check it out here
1pm –  Registration ,family photos
2pm –  Street heat performance and parade starts, (we will be completing a loop of the quay and making our way back to the transit shed.)
3pm – Parade end – Raffle, fancy dress competition results, bake sale. Announcement of St Ives Holiday Winner.
4pm – Home time!
The Parade –  Two ways to enter!
1.Turn up on the day – Meet us at the transit shed on the Exeter Quay at 1pm in full fancy dress attire and get registered.
After registering, have your family photo taken and share the communal parade fundraising link, every parade entrant will be entered into the free 'Holiday raffle'
2. If you have been to one of our parades before, you will know that setting up your own fundraising page can help to raise more funds in advance of the event and help you to follow your own personal impact.
To set up your own sponsorship page, click on the big green button below and look out for the same big green button on the give as you live page.
TOP TIP: The more you share and thank everyone who donates, the more funds you will raise 🙂

Live Music!
On the day there will be a live performance by the one and only street heat (EEEK SO EXCITED!)  –

If you haven't seen them before
Raffle Tickets!

There will be a raffle being held on the day – you can either buy tickets before hand or they can be purchased at our event – £1 per ticket. Prizes are still flooding in for the raffle, including a huge hamper worth £200, great high street vouchers, family days out – even a full dog grooming voucher!
If you would like to get involved with selling raffle tickets – please either email amy.tumber@snugonline.org, or head down to our community meets on Tuesday afternoon to pick up your book of tickets- thank you!
Bake Sale!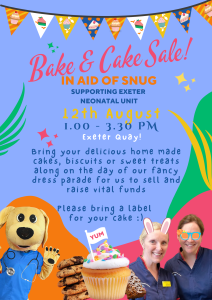 We will be having a scrummy bake sale to raise funds to support neonatal families – if you would like to donate a cake or sweet treat, please bring it along with you on the day. Please can you bring along a label for cake/bake good, and please avoid using nuts – thank you!
To everyone making donations for cakes on the day, please be aware that all cakes and goods may contain a mixture of different commonly known allergens.